People in The News


< Back
Risk-Management : Internal Auditing : :
PwC Expands Risk Assurance Services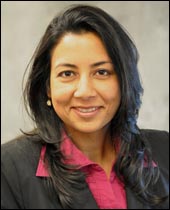 Farah Faruqui
Partner
PWC


PwC US has announced the addition of Farah Faruqui, to the firm's Risk Assurance practice, representing continued growth in the internal audit practice and the number of partners specializing in that area.
"As companies continue to deal with increasingly complex business issues, it is critical that they have internal audit in place as the final line of defense to address the constantly evolving risk landscape, both internally and externally," said Dean Simone, leader of PwC's U.S. Risk Assurance practice. "We are committed to expanding our practice across all industries to further support our clients as they take a holistic approach to reducing risks and maximizing business opportunities. We welcome Farah to PwC's team of diversely talented professionals."
With the addition of more than 500 new hires in the past year, PwC's Risk Assurance practice, now comprised of more than 1,900 professionals, provides companies with significant technical expertise as well as deep industry knowledge across all industries. Skilled team members help companies develop risk and compliance programs, audits and create internal controls processes around business performance issues and IT systems as well as strategy and contingency planning.
Based in the San Jose office, Faruqui will focus on growing PwC's Technology Internal Audit practice in the North Texas, Southern California and San Jose/Northern California markets. She will also be responsible for building an "Emerging Company Services" equivalent practice for Internal Audit and Risk Assurance. Faruqui assists clients ranging from pre-IPO companies to mid-market and large technology companies. Her focus includes internal audit outsourcing / co-sourcing, Sarbanes-Oxley compliance, corporate governance, risk and compliance, and business process improvement. Faruqui has performed numerous enterprise, IT, and fraud risk assessments, and developed annual internal audit plans.
Faruqui comes to PwC after 18 years in Deloitte's risk advisory services and financial audit practices where she served as the Silicon Valley Internal Audit Technology Industry Leader. She is a graduate of McGill University in Montreal, and is a Certified Public Accountant in California and a Chartered Accountant in Canada. She is a member of the AICPA, California Board of Accountancy and the Institute of Internal Auditors.
She has served on the Board of Directors of the Institute of Internal Auditors, San Jose Chapter, and the National Association of Corporate Directors (NACD), Silicon Valley chapter.
PwC understands that significant risk is rarely confined to discrete areas within an organization. Rather, most significant risks have a wide-ranging impact across the organization. As a result, PwC's Risk Assurance practice has developed a holistic approach to risk that protects business, facilitates strategic decision making and enhances efficiency. This approach is complemented by the extensive risk and controls technical knowledge and sector-specific experience of its Risk Assurance professionals. The end result is a risk solution tailored to meet the unique needs of clients.
PwC US helps organizations and individuals create the value they're looking for. We're a member of the PwC network of firms in 158 countries with more than 180,000 people. We're committed to delivering quality in assurance, tax and advisory services.